By Russell M. Gullo
One of the most common concerns we hear at the garden center is that shrubs will get too large and outgrow the
space they are planted in. While this is certainly true of some plants, there are many options that will stay small,
are low-maintenance, and provide years of beauty and curb appeal to your landscaping. Here are some of our
favorites that we often use in Gullo's Professional Landscaping designs.
Boxwood are the king of evergreens! These shrubs are low-maintenance, provide year-round color, are deer-resistant,
disease and insect resistant, and grow in a number of different shapes and sizes. Franklin's Gem is one of the best
examples of boxwood. It is low-growing – typically in a rounded form, and only reaches about 2′ in height. When pruned,
Franklin's Gem Boxwood adds a sophisticated, formal look to any landscape.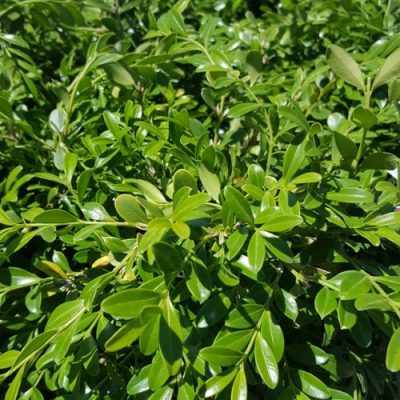 Magic Carpet Spirea is an excellent choice for adding curb appeal to your home. Its new foliage is red and matures to
a vibrant gold color. In beds with black mulch, these really pop from the street. While its beautiful foliage is reason
enough to include this plant in your landscape, it has the added bonus of pink flowers in late spring. Reaching only 18″-
24″ in height, Magic Carpet Spirea is sure to shine in your landscape.
Gullo's Professional Landscaping 3D Designer Tony Gullo is particularly fond of using these in his designs. "They grow in a
nice round shape and don't get too big. "I like to use them as an accent piece in the front of beds. Nothing bothers them
either. They are a very hardy shrub" says Gullo. Reaching only 2′-3′ in height, slowly, Dwarf Norway Spruce is a great
evergreen option for year-round color and interest.
This plant is one of Gullo's Professional Landscaping's favorites to use in the front of beds. It only reaches 10″-12″ in height, so
it will not block out or hide plants behind it, is very hardy, and provides season-long interest. Its rich burgundy foliage is beautiful
on its own, but the real show comes in late spring when beautiful pink flowers adorn it and contrast perfectly against the dark
foliage. It also requires very little, if any pruning, making it an excellent low-maintenance option.
Another excellent dwarf weigela option, My Monet can be seen in many Gullo's Professional Landscaping jobs. Its tricolor foliage
of white, pink, and green is sure to catch your eye, and when its pink blooms appear in late spring, it is one of the most
attractive plants available. This plant has won many awards and requires no pruning, reaching heights of only 12″-18″.
With striking gold and green variegated foliage, this small shrub really pops against black mulch and creates striking curb
appeal. An evergreen, Emerald 'N Gold Euonymus provides year-round color. Mounded in shape, they have a nice, tidy
appearance. Use in areas with partial to full sun for maximum gold coloring.
One of the most unique plants we offer, Fox Red Curly Sedge is very polarizing. Some people love its one of a kind look,
while others think it looks dead. If you're in the former camp, this plant is an excellent choice for times when you're
looking for something other than the same old. Fox Red Curly Sedge looks particularly attractive in stone beds and only
reaches heights of 2′-3′.
This low-growing juniper reaches only 6″ in height and forms an excellent ground cover. Its silvery, blue-green, evergreen
foliage provides year-round color. Requires no pruning.
An even more compact hydrangea, the new Cityline® Paris Hydrangea reaches only 12″-18″ in height. It features one
of the reddest flowers in the hydrangea world and requires no pruning. Disease resistant and low maintenance, this
hydrangea is an excellent choice and represents the great strides that have been made in recent years in the field
of plant engineering.